Content marketing is a form of digital marketing focused on creating, publishing, and distributing content for a targeted audience online. It is often used by businesses in order to:
Attract attention and generate leads.
Expand their customer base.
Generate or increase online sales.
Content marketing means creating and sharing valuable free content to attract and convert prospects into customers, and customers into repeat buyers. The type of content you share is closely related to what you sell; in other words, you are educating people so that they know, like, and trust you enough to do business with you. So what are the content marketing trends for 2019?
Value Marketing
Although the term "value-added marketing" is rather self-explanatory, it still makes sense to quickly run through the concept.
Call it a customer-first approach, empathetic marketing, or marketing with meaning. The idea behind it remains the same: to delight customers by delivering more than they expect and pay for.
Added value in marketing can be either financial or not. This could be anything from free shipping to referral rewards, even discounts on related materials. It doesn't matter what exactly a company is offering as an added value as longs as it exceeds the expectation of customers and is considered valuable by them.
What is offered as a value-add should never contradict with the major product or service a business provides.


Value-added content, therefore, is any unique, original, or exclusive content or information that your audience cannot get anywhere else. Examples of this added value content include video content, case studies, research studies, white papers, promotional offers, tutorials, and blog posts
Value-added marketing brings marketing to an entirely new level by turning marketing content into a product of its own. As more and more brands adopt this attitude, we're stepping into the next stage of marketing evolution—one that puts customers first understands the importance of "going the extra mile," and emphasizes perceived value to the customer over pure revenue.
Content Personalization
As content distribution and end-user devices expand in popularity and diversify in terms of format and implementation, personalized user experiences become more common as the science of content personalization advances.

Content personalization, the strategy for delivering relevant and targeted content based on what interests your audience, is instrumental for engaging customers on an individual level. Providing tailored recommendations to customers is the difference between sales and great sales. For marketers, getting this right is extremely important and valuable. Content personalization enables brand to
differentiate themselves from their competitors
enhance engagement among their target audience
foster an increased sense of trust and credibility among their viewers/readers
That said, as we move into 2019 you're going to want to figure out numerous ways in which to create personalized content that allows – and in some cases requires – your audience to interact with your brand.
Input and Development
Everyone in your team should have some input at some point in the content creation process. There are a number of reasons for making this change.
You can't run a ship on your own; you need a crew. But with only the content team aboard, you can't go as quickly and effectively as you might with others lending a hand. Putting your brand's entire team — no matter the department — onto the task of helping with content can make a big difference. It might even end up launching creative avenues you never expected.
For one thing, each of your team members engages with your brand's customers in different ways – and will be able to provide varying perspectives regarding their needs and expectations in terms of the content they want to see. Similarly, as each team member plays a different part in the overall operations of your company, they have their own unique understanding of the value your company provides. Putting these two points together, your various team members will likely have a number of different ideas as to how to communicate your value to your audience members.
Influencer Marketing
This sort of marketing is simply the process of identifying, researching, engaging and supporting the people who create high-impact conversations with customers about your brand, products or services. Influencer marketing offers brands the potential to unify their marketing, PR, sales, product, digital marketing, and social media through powerful and relevant relationship-based communication. Both the ROI and marketing potential of influencer marketing is immense.
Certainly, the value of influence over customers is not a novel concept in marketing. But as online customer conversations continue to evolve so drastically, influencers are playing a critical role in breaking online clutter, creating relevant customer dialogue and bringing trust to the table for brands and marketers alike.
As outbound marketing continues to fall off and inbound marketing grows in popularity, influencer marketing has become one of the most effective techniques for attracting customers.
Consumers of today are not the same as consumers of the past. They don't listen to everything they hear on television or the radio. They don't read billboards and take the information to heart. And they don't trust large companies (at least, not until they take the time to get to know them and the company has earned their trust). They do, however, listen to what other people have to say.
Multimedia Content
Film, Video & Podcast Production — Concept/Development, Writing, Production, Post Production, and Distribution services for Advertising, TV, Film, Radio, Educational, and Corporate Video projects, etc. (Location and In-Studio)
Writing Services — Print, Website, Newsletter, Magazine, Press materials, and More)
Custom Newsletters & Online Flipbooks — Development, Writing, Production & Distribution (includes social media marketing)
Website, Blog & Social Media — Design, Maintenance, Writing, & Blogging Services
Full-Service Public Relations & Marketing(campaigns, special projects, consults)
Event Development, Planning & Execution
Food Styling & Photography
It is important to create materials that exploit the new technologies rather than fashion materials that redo in a new way what was done previously with traditional technologies.
Artificial Intelligence
Over the years, marketers were for some reasons hesitant to complement Artificial intelligence (AI) in their digital marketing approaches. Fast forward to 2018 and now, digital marketers have gained a lot more assurance using AI. AI tools will keep evolving to a point at which they are able to surpass humans in certain aspects to revolutionize digital marketing in all …read more
The rules of content marketing change every year. Blog posts are longer now, hyper-focused web pages and personalized advertising have become a necessity, and Google has launched new machine learning updates.
With artificial intelligence, marketers can automatically generate content for simple stories such as stock updates and sports reports. You've probably even read content written by an algorithm without noticing it.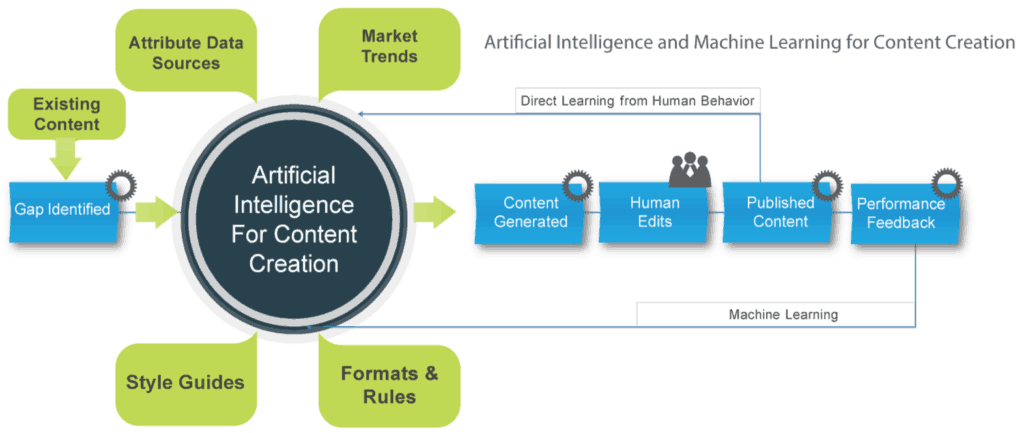 Artificial intelligence is helping marketers decipher the ever-changing world of content marketing by analyzing user data and helping marketers make sense of user intent.
Content Cluster
Recently, changes in content marketing are happening at lightning speed. This is mostly brought about by the way how people now search for information. Not only does this help them narrow down the results so they can find the information they need more quickly, but also to weed through the immense volume of poor quality content.
Content Cluster is basically an SEO strategy that focuses on topics rather than keywords. A model is an intent-based approach that simplifies blog archives by creating content around one central topic – referred to as the "pillar" page or post. You have the list of topics from your brainstorm – many of which now fit neatly as clusters. That's not all. You need to dig and compile a bigger list of the cluster content you can create for your pillar page. A good way to use content cluster is to head straight to the horse's mouth. Ask Google to recommend topics that could form your cluster pages.
To do this, type a prefix (such as why, how, or when) before your topic in a Google search. Browse the auto-populated suggestions that Google recommends:
Components of a topic cluster model
Pillar page
The pillar page is an article between 3,000 and 5,000 words long. While it covers all aspects of a specific topic, it still leaves room for the different cluster content to answer.
Cluster content
The second component of the topic cluster model is the different cluster content connecting to the pillar page.
Unlike the pillar page, which centers around a specific topic, each of these content focus on a targeted keyword related to the topic that you want to rank. Furthermore, they also contain a text link that brings your reader back to the pillar page (hence the name).
Hyperlinks
Of the three, this component is perhaps the most important. That's because this is what binds the
pillar page and the cluster content to each other. At the same time, it connects the different cluster content to each other.
Got any more you think should be included? Tell us in the comment section below.